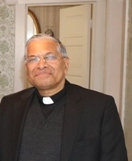 A Glimpse into the journey of our Pastor
Father Mathai Vellappallil, SDB (Salesian of Don Bosco).
Born February 6, 1944 in Southern India, the state of Kerala, Palli Diosese
His family are members of the Church of Malabar Syrian Catholics which is an Eastern Catholic Major Archiepiscopal Church based in Kerala, India. It is in full communion with the Pope and the worldwide Catholic Church.It traces its origins to the Evangelistic activity of St.Thomas, the Apostle of the 1st century.The church has been described as "Catholic by faith, Indian by culture, and East Syriac/Oriental in liturgy."
The Salesians of Don Bosco, in which Father has been ordained, is a Roman Catholic Rite founded by an Italian priest to help poor children during the industrial revolution.  Their concentration of spiritual and works of charity has been towards the young, the poor, and the education of boys to the priesthood.
In India, it is an honor for your son to be selected to attend a missionary school with the possibility that he will become a priest when he comes of age. In 1955permission was granted from his parents and he traveled 3 days by train to Calcutta to begin his journey to the priesthood. At the age of 11, Father was one of the boys that was recruited for this ministry that would educate him in Northern India When he reached high school age(1962), he, himself, had to fill out an application to continue the long process of priestly studies.  This involved not only learning to teach and preach, but also to learn the principles of philosophy, economics, theology, psychology, and Latin and Greek.
There are 29 states in India and each has its own language, and over a thousand dialects so that was another challenge to overcome. His native language is Malayalam, but he had to learn English, which is taught in all schools, Bengali and Hindi.He also has received a Masters degree in economics.
Ordained in 1972,his first assignment,which lasted for nine years, was at the Salesian College where he taught economics and Latin utilizing the Don Bosco system of education. Then he spent 10 years as a pastor in a tribal parish in the center of India which required him to learn still another language.
In 1992, he was elected Provincial delegate for the region of Delhi and in 1997 became Vice-Provincial of the new Province of Delhi. Six years later, the Provincial Superior appointed Father, pastor and principal of the community in the tribal state of Jharkhand.  By 2009, he was director of the Salesians seminary for tribal candidates for the priesthood. 2015 found him crossing the Atlantic Ocean to become the administrator of St. Francis in Naugatuck. And finally in 2017, Archbishop Blair summoned him to be the pastor of our wonderful St. Michael Church here in Beacon Falls.
His journey has taken him far from home, but he has brought his love of Jesus and his devotions to the Blessed Mother to all that he meets and our Church is blessed to be part of his Spiritual Life.